Currently, the majority of natural actives used in cosmetic or nutraceutical formulations are imported to Europe, while a great diversity of resources is present in North-West Europe. A large amount of residues in covered areas, known for their arboriculture and viticulture sectors, are not fully exploited for the sourcing of natural actives and are not used. The aim of the AgriWasteValue project is to transform agricultural residues from the European North-West regions into bioactive compounds in order to use them in key industrial sectors such as the cosmetic and nutraceutical fields and then in a second phase in the energy, chemical and agricultural fields.
After four and a half years, the AgriWasteValue project is coming to an end. The project partners are pleased to invite you to the final event of this agricultural residues valorisation project, which will take place as a hosted event on the 8th edition of Nutrevent, on 4 October 2022, in Nantes (France).
Come and discover at the conference the results, tools and partnerships developed during this Interreg NWE Europe project and participate to the Nutrevent exhibition by visiting the AgriWasteValue stand for more interaction with the project partners.
Valorisation of agricultural residues
For a sustainable value chain in the cosmetic, nutraceutical, energy and agricultural sectors

October 4th – 2.00 – 5.00 pm
Room "300"
(Event held in English)
Provisional programme:
2.00 pm – Conferences

Presentation of  the AgriWasteValue project and introduction
Availability and distribution of pruning residues: a crucial matter, Pierre-Louis BOMBECK, Wood-energy project manager, Valbiom
Green extraction methodologies applied to apples, pear and vine residues for the recovery of potential nutraceutical and cosmeceutical bioactive ingredients, Job TCHOUMTCHOUA, Project leader, Celabor
Enzymatic modifications of natural extracts of agricutural by-products to produce new bioactive molecules and enhance their biological properties for use in cosmetics, Laurène MINSAT, PhD Student, URCA/AgroParisTech
Q/A Session

3.30 pm – Break
4.00 pm – Conferences

Beyond extractives – The perspective of tree and vineyard cuttings for a material and energetic utilization, Patrick BALLMANN, Biotechnology & Microbiology, PFI
To orchards cuttings residues to fertilizers : closing the loop, Cor VAN OERS, Manager, Delphy
[Guest speaker]: Green Solving Attitude : from biomass to added value solution, Yassin IBN SLIMANE, Sales manager, Minasolve
Q/A Session

5.00 pm – End of conferences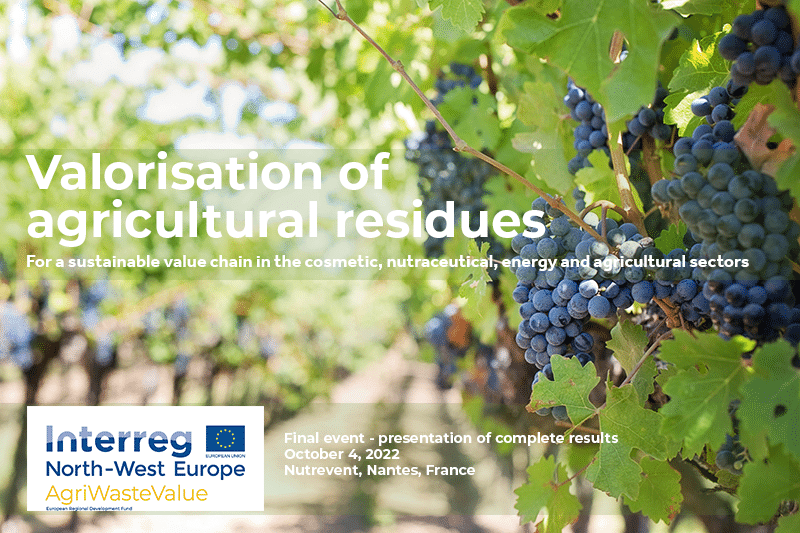 Visitor access for NutrEvent on October 04 will be offered to final event AgriWasteValue attendees – limited registration.