Currently, the majority of natural actives used in cosmetic or nutraceutical formulations are imported to Europe, while a great diversity of resources is present in North-West Europe. A large amount of residues in covered areas, known for their arboriculture and viticulture sectors, are not fully exploited for the sourcing of natural actives and are not used.
The aim of the AgriWasteValue project is to transform agricultural residues from the European North-West regions into bioactive compounds in order to use them in key industrial sectors such as the cosmetic and nutraceutical fields and then in a second phase in the energy, chemical and agricultural fields.
The agricultural residues, biomass that will be used for this project come essentially from: vine pruning, fruit tree pruning, bark, buds…
Molecules of interest for cosmetics and nutraceuticals: results of the Interreg AgriWastevalue project 
January 26th
(This event will be held in English)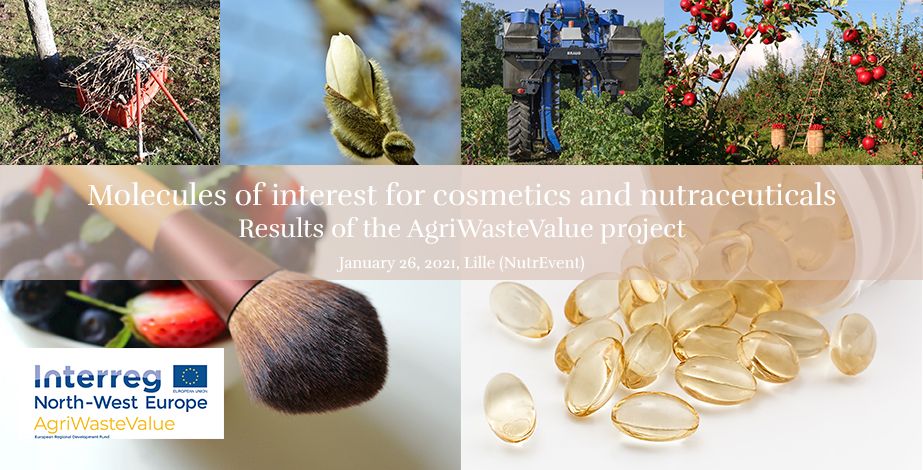 Provisional program
12.45 pm – Welcoming Lunch NutrEvent
1.30 pm – Welcome of participants in the conference room
2.00 pm – Conferences

2.00 – 2.50 pm – Results of the AgriWasteValue project – halfway through
2.50 – 3.00 pm – Q&A session
3.00 – 3.20 pm – Why & how to develop premium beauty & health ingredients from waste & biomass – Christian GOMBERT, Actives Sourcing Innovation Manager, SEPPIC
3.20 – 3.30 pm – Q&A session
3.30 – 3.50 pm – Intervention of a nutraceutic/cosmetic company
3.50 – 4.00 pm – Q&A session

4.00 – 4.30 pm – Networking in the conference room
Workshop « AgriWasteValue : what challenges and opportunities for the nutraceutical sector ? »
January 27th
(This workshop will be held in French)
In line of AgriWasteValue mid-term event and the results to date of the project, experts from the nutraceutical sector will enhance discussions with complementary perspectives (marketing, scientific, regulatory…).
The objective will also be to exchange on the interest and expectations of the actors of the nutraceutical sector about biosourcing.
10 am to 12 pm : Upcoming program